Posted by Michael Pinto on Mar 26, 2009 in
Comic Books
|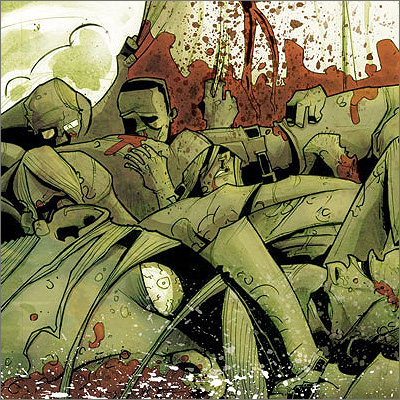 Shown above is a nice gory detail from a cover illustration by Rob Guillory for the comic book Chew #1 which will be released on June by Image. But what makes this cover work so well for me is the sense of humor, which you only notice when your eye moves off this scene of carnage: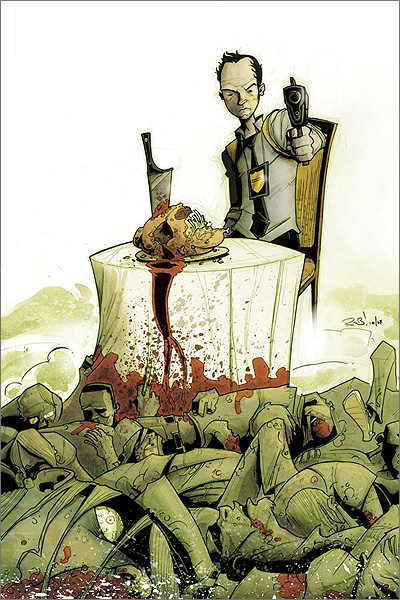 What makes this illustration work so well is the contrast of the nerdy detective sitting at the table — his slice-of-life apathetic expression is is the perfect foil to the horror show at his dinner table. This is very subtle stuff, but it did make me laugh the minute I looked at the artwork (which is unusual when looking at dozens of covers). Here's a description of he book:
"Tony Chu is a cop with a secret. A weird secret. Tony Chu is Cibopathic, which means he gets psychic impressions from whatever he eats. It also means he's a hell of a detective, as long as he doesn't mind nibbling on the corpse of a murder victim to figure out whodunit, and why. It's a dirty job, and Tony has to eat terrible things in the name of justice. And if that wasn't bad enough, the government has figured out Tony Chu's secret. They have plans for him… whether he likes it or not.
Presenting a twisted new series about cops, crooks, cooks, cannibals and clairvoyants, written by John Layman (Marvel Zombies vs. Army of Darkness, House of M: Fantastic Four and PUFFED) with mind-blowing art by astonishing comics newcomer Rob Guillory."