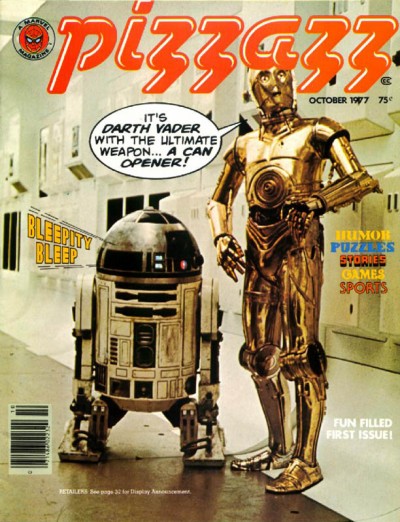 The late 70s wasn't the best of time for the comic book biz so Marvel took a look at Dynamite magazine and Starlog magazine and created their own youth culture magazine called Pizzazz. The magazine was an amazing mirror of pop culture during the disco era of 1977 until 1979 and lasted a total of 16 issues. The inside of the publication featured articles on popular films, a Star Wars comic and even a one pager by Harvey Kurtzman.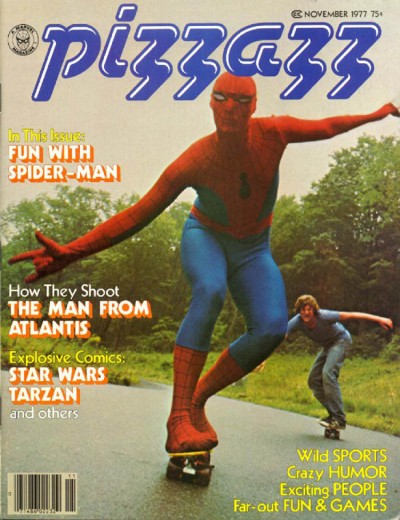 Issue #2: Spider-man on a skateboard! What got my attention about this cover is that The Man from Atlantis was a cool sci fi show from that era that only lasted for one season.
Issue #3: Santa has a Shaun Cassidy poster for you! I guess Marvel wanted the ladies to read Pizzazz…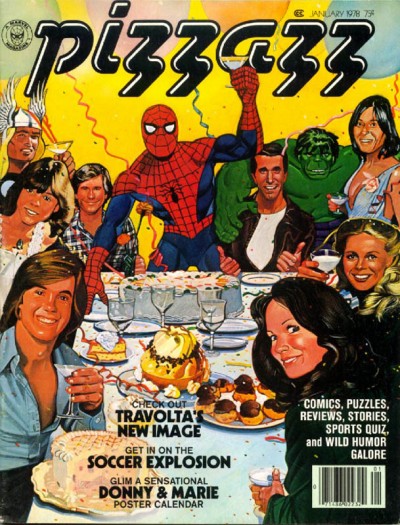 Issue #4: We've got Spider-man partying with the Fonz AND the cast of Charlie's Angels! And yes that's Kristy McNichol standing in front of Thor…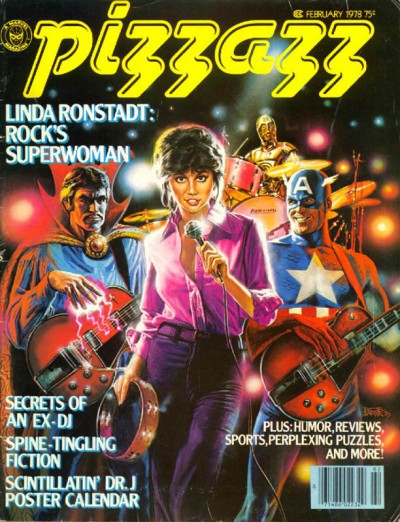 Issue #5: Linda Ronstadt's band features Dr. Strangelove, Captain America and 3CPO on drums!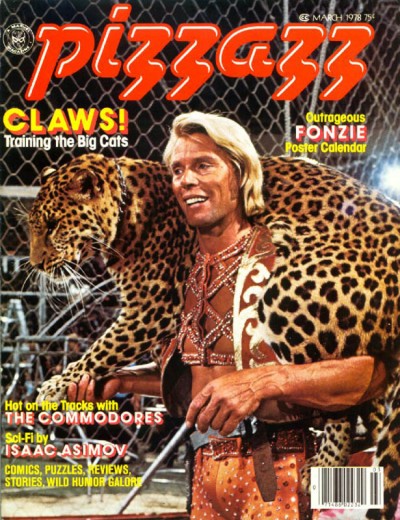 Issue #6: A Fonzie poster and a short story by Isaac Asimov — what else could you ask for? Meow!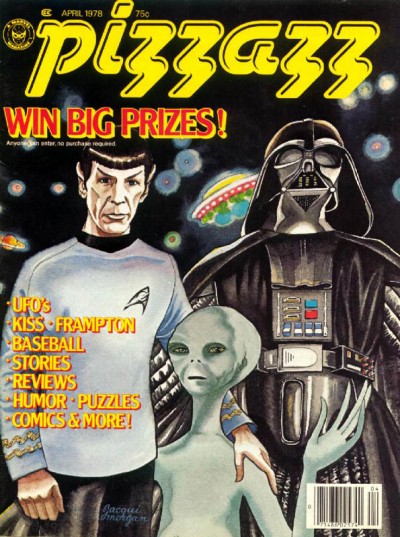 Issue #7: This cover art featuring Spock hanging out with a Close Encounters alien and Darth Vader is a tad sad looking…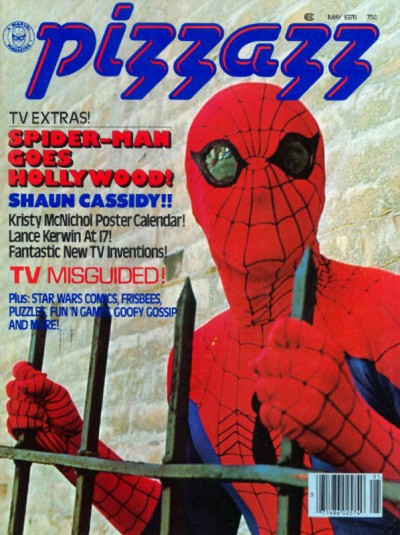 Issue #8: Maybe Spider-man should have included Shaun Cassidy in that Hollywood flick?
Issue #9: I think the Hulk likes really likes Shaun Cassidy a tad much…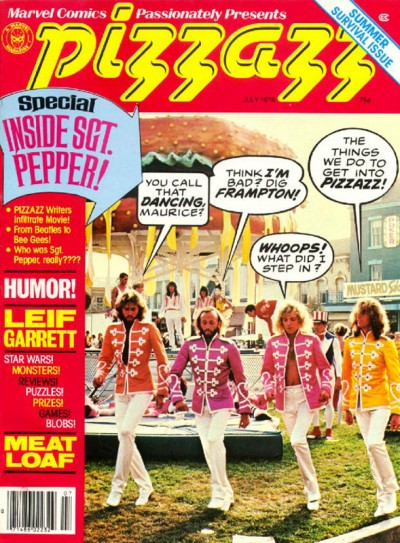 Issue #10: At least Marvel had the good taste to knock the Bee Gees for their Sgt. Pepper film.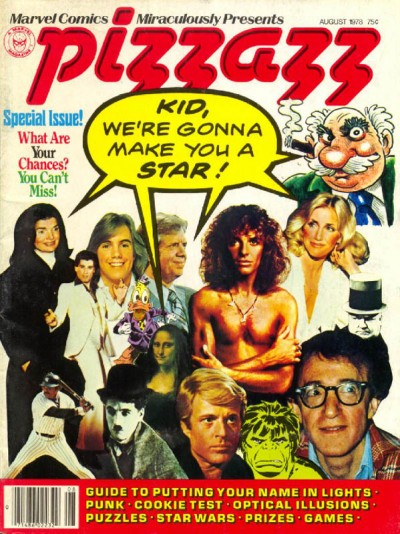 Issue #11: When was the last time that you found Jimmy Carter and Woody Allen sharing a cover with Peter Frampton? And yes that's Reggie Jackson in the corner too…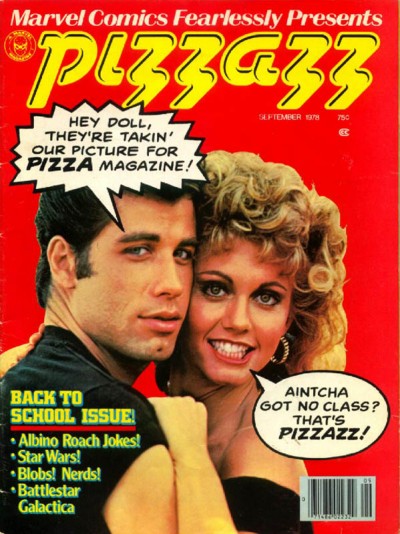 Issue #12: Grease is the word!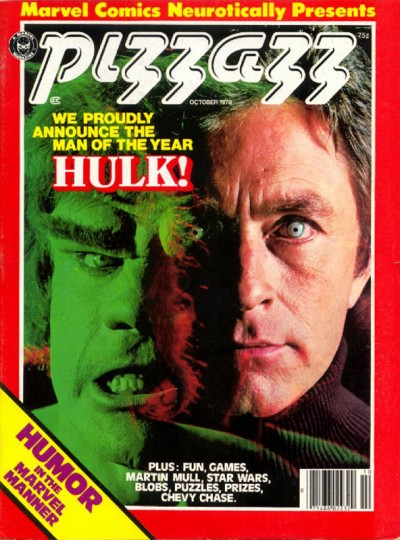 Issue #13: The Hulk television show from this era was quite good thanks to the acting skills of Bill Bixby who sadly passed away in 1993.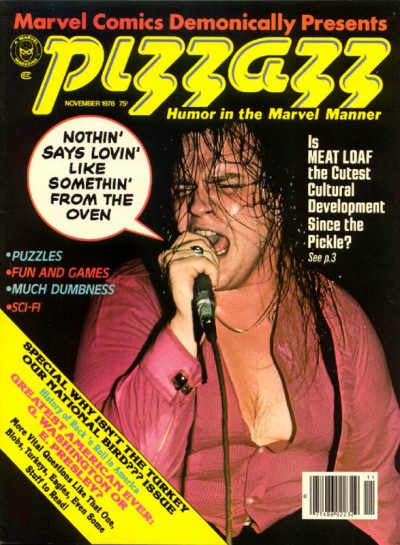 Issue #14: I would do anything for Meat Loaf! Note the George Washing vs. Elvis side story…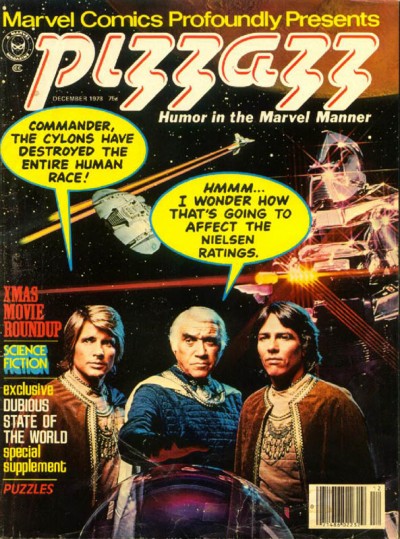 Issue #15: It's the original Battlestar Galactica — maybe we can tape it on betamax?
Issue #16: Marvel ironically honors Superman — little did they know that this was the start of DC owning the box office for years to come.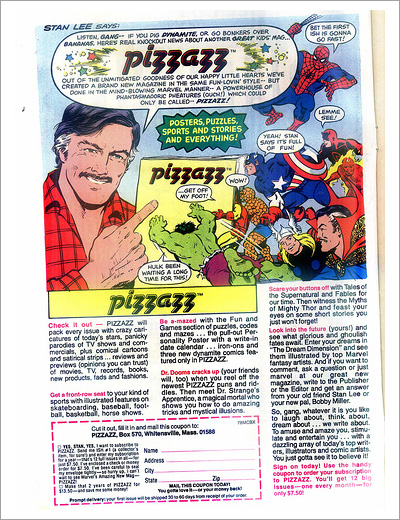 This was an ad for Pizzazz that ran in comic books of the era.
Found via rebelscum.com.