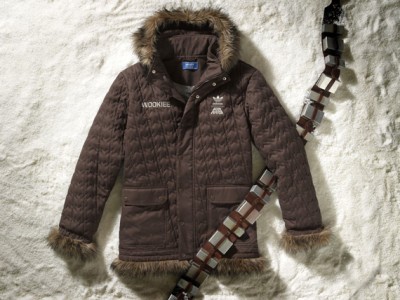 Plan on visiting Hoth anytime soon? Can't afford a Taun Taun? Don't worry, Adidas has you covered. The latest addition to their Star Wars inspired Adidas Originals line happens to be a Wookie inspired jacket. I'm fairly certain that no Wookies were harmed in order to make these, but they definitely look warm enough. I just wonder if it actually comes with Chewie's signature bandolier, as pictured above. Sure, it seemingly served no purpose, but you have to store your thermal detonators somewhere, right?  The jacket will be available later this year, and while there's no current price listed, expect to pay handsomely.
Found via freshness.
Tim is a pro-blogger and freelance writer out of San Diego, California. In addition to Fanboy.com, he contributes to the ModernMethod Network of sites as the Features and Reviews Editor for the Japanese culture and entertainment blog, Japanator. He's also an Assocaite Editor for the collectible toy culture blog, Tomopop. For more information, follow him on twitter, or check out TimSheehy.com.