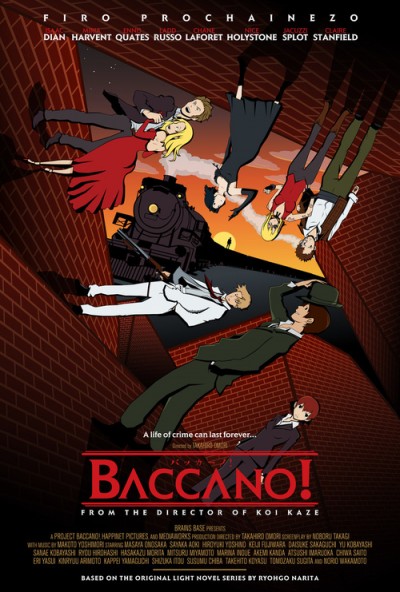 Check out this fantastic little mash-up by writer & graphic designer Ben Huber. Anyone who's a fan of Baccano! will recognize the characters but the image is quite clearly paying homage to a certain poster from Christopher Nolan's  box office hit, Inception. On top of that, you'll really appreciate the attention to detail, as while you may be unable to see the text without enlarging the image, those credits are completely accurate. It sort of blows my mind that he had time to do that, but it's certainly cool that he did.
While Ben's probably more known for his writing over at Japanator — a site I admittedly write for — what most people may not know is that he's actually quite an amazing graphic designer. In addition to being a good friend, and fellow anime fanboy, Ben likes to make a spare buck on the side designing these fantastic art prints, many of which you can actually order from his Society6 store. Not every work is available as a simple poster print. For example, the Baccano! poster is sold as an art canvas and can cost you $85 to $95 depending on the size. That said, the quality is superb, so it's not like you're wasting your money. No doubt he'll be making more of these, so keep an eye on that store for upcoming designs.
Tim is a pro-blogger and freelance writer out of San Diego, California. In addition to Fanboy.com, he contributes to the ModernMethod Network of sites as the Features and Reviews Editor for the Japanese culture and entertainment blog, Japanator. He's also an Assocaite Editor for their popular gaming blog, Destructoid, and the collectible toy culture blog, Tomopop. For more information, follow him on twitter, or check out TimSheehy.com.