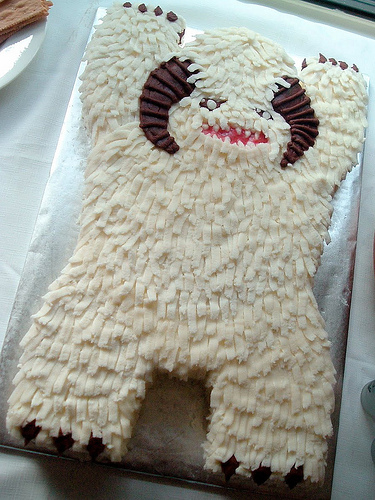 This Star Wars-themed Wampa pound cake was recently designed  by Star Wars fan & professional illustrator Alica Policia for her 30th birthday.  Pretty amazing, right? Made with her mother's classic sour cream pound cake recipe and featuring some fantastic buttercream icing, one might wonder why she didn't bother going all the way by adding a layer of ice cream. After all, Hoth has plenty of ice — you'd think it'd be a necessity.
found via StarWars Blog
Tim is a pro-blogger and freelance writer out of San Diego, California. In addition to Fanboy.com, he contributes to the ModernMethod Network of sites as the Features and Reviews Editor for the Japanese culture and entertainment blog, Japanator. He's also an Assocaite Editor for their popular gaming blog, Destructoid, and the collectible toy culture blog, Tomopop. For more information, follow him on twitter, or check out TimSheehy.com.