Posted by Tim Sheehy on Apr 21, 2011 in
Television
|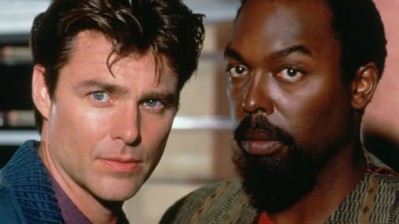 For those of us still waiting for our favorite Trek series to begin streaming this June, Shatner's TekWar hit Netflix this week. I honestly don't think it'll fill the void, but you're more than welcome to give the series a try. I love Bill Shatner, but sometimes I find myself asking why they let that man direct anything, let alone publish novels. Like The Final Frontier, I've found that TekWar serves as a prime example of why the man should never step behind the camera.  
I understand that it was '90s and that studios simply didn't have money to produce their own Star Trek, but the low budget, and terrible acting aside, TekWar may have been its own worst enemy. If you can believe it, the TV series was written in manner that requires a constant working knowldge of its own universe. In short, they expected everyone to know everything off the bat. If you decide to give the series a try, I recommend picking up a few of the novels while you're at it. At least that way, you'll be prepared.
Tim is a pro-blogger and freelance writer out of San Diego, California. In addition to Fanboy.com, he contributes to the ModernMethod Network of sites as the Features and Reviews Editor for the Japanese culture and entertainment blog, Japanator. He's also an Assocaite Editor for their popular gaming blog, Destructoid, and the collectible toy culture blog, Tomopop. For more information, follow him on twitter, or check out TimSheehy.com.