The first trailer for Jim Hensons' Muppets return ot the big screen— which starts out looking like a romantic comedy before revealing the inclusion of the cloth characters — was pretty cute. But it doesn't compare in the least to the newest trailer, in which the Muppets take on superheroes in a big way…especially Green Lantern (and a little bit of Batman, if you squint).
But that's just the above trailer. Hit the jump to see who the Muppets will challenge next…in poster form!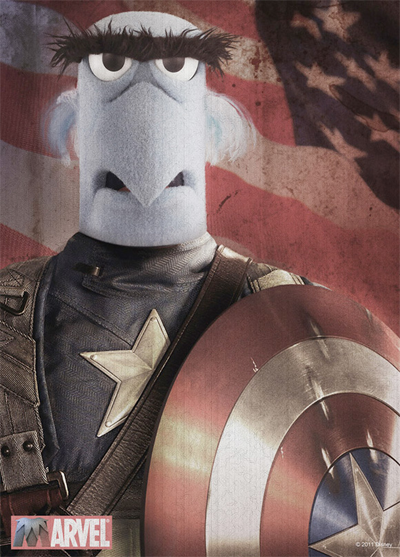 One assumes that since a version of Marvel's logo appears in the image, the above poster (featuring Sam the Eagle) was released with the publisher's blessing…no surprise since it helps promote the brand-new-in-theaters release of Captain America: The First Avenger.
[Via First Showing]
Gia Manry is a Texas-based geek who you can hire. Or you could just follow her on Twitter.