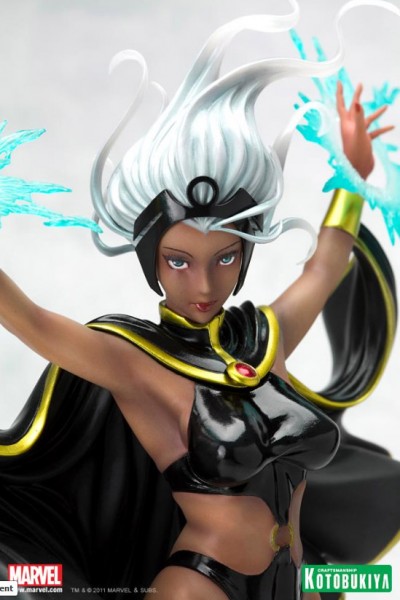 I confess, I love Kotobukiya's bishoujo line. They're easily collectible, are often equal parts sexy and cute, and for whatever reason, my wife loves them as much as I do. Not only that, but each of these figures are based off a sketch by one of my favorite artists, Shunya Yamashita. Recently, Kotobukiya posted images of their upcoming Storm bishoujo figure, and the fan reaction hasn't been as positive as one would expect.It wasn't the most negative reaction to date, as their Liara T'soni figure had Mass Effect fans raging for weeks until Kotobukiya agreed to change the final product, but many collectors have expressed mixed feelings, and I wonder why.
Personally, I think it may just be case of "lost in translation," as I actually liked the original art, pictured below. Unfortunately, when Kotobukiya sculpts their figures, they tend to take a few liberties in order to facilitate mass production. These aren't like those expensive limited edition resin kits you find on Japanese hobby sites. As a result, the quality takes a bit of a hit, and while Kotobukiya is usually pretty good about it, the face doesn't always match the art as precisely as we'd like. Of course, there are other things that could have been done to spruce up the design — giving Storm solid white eyes, as she's usually depicted when using her abilities, for example. The pose seems pretty dead-on, though.
Any collectors looking forward to picking this up? If not, what would you have changed?