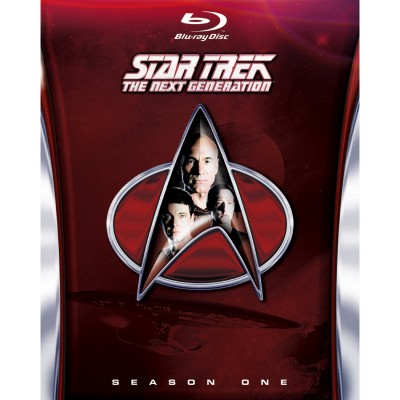 The first season of Star Trek: The Next Generation in HD should finally be available at store near you. My copy arrived earlier today, and I couldn't wait to marathon a few of the discs. Of course, watching the first season of Star Trek the Next Generation can almost seem like a chore — the writing wasn't incredible, the props and costumes needed some work, and the acting left plenty to be desired — so I had to pace myself. I was a bit worried that the experience would be much akin to chewing on a stick of Fruit Stripe gum — you know, 'oos' and 'ahs' for the first few minutes then suddenly 'aww'. However, it actually isn't that bad.
Naturally, having already sat through "Encounter at Farpoint" with the Star Trek: The Next Generation – The Next Level sampler, released earlier this year, I skipped ahead to "The Naked Now." Again, while the writing suffered at times, you can tell they went through quite a bit of effort to restore and remaster the footage. Unfortunately, some of the props may seem a bit poor as a result,  the visual effects are quite stunning and enough to distract you from Wesley Crusher's array of poorly-knitted sweaters.
If I haven't scared you away,  or you're just an honest fan, like me, who wants to get their hands on a copy — just head to your local store, hop on over to Amazon and order your copy for just $60 today.