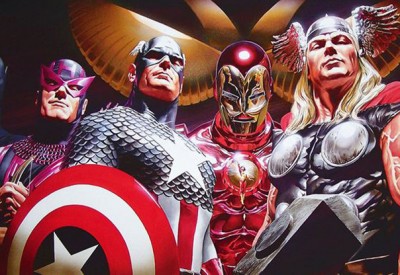 After The Avengers was released back in May, I wanted a sequel right away. It didn't help that Marvel's usual post-credits teaser was prominently shown before the credits even finished rolling. I want to know what Thanos is grinning about, if the Skrulls Chitauri are going to cause more trouble, and how anyone could top the citywide brawl at the film's climax. Sadly, it sounds like fans will have to wait a while longer.
After MTV figured out the date, IGN confirmed it: the Untitled Marvel's Avengers Sequel will be released on May 1, 2015. Disney and Marvel reiterated that Joss Whedon will be returning to write and direct the movie, which is very good to hear. The Avengers could have been a soulless team-up of big name stars (see: The Expendables) if it wasn't for Whedon's smartly-written script and intimate understanding of the characters' chemistry.
Almost three years is a long time to wait, but it fits perfectly with Marvel's plans for "Phase Two" of their cinematic universe. Iron Man 3 and Thor: The Dark World are both due next year, while 2014 will see the release of Captain America: The Winter Soldier and Guardians of the Galaxy, the latter of which has a good chance of featuring Thanos due to its cosmic setting. And of course, there's no telling where Edgar Wright's long-delayed Ant Man film may fit in, since it may only start shooting at the end of the year. There's plenty of time, both for fans to watch these individual films and for Marvel to come up with a better name than Untitled Marvel's Avengers Sequel.