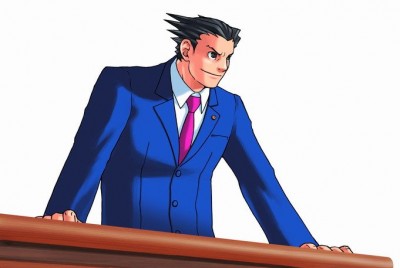 It's been a while since the last official numbered sequel to Capcom's courtroom drama game, Ace Attorney. Though the third game, Phoenix Wright: Ace Attorney: Trials and Tribulations, was released on DS in 2007, it was originally released only in Japan on GBA in 2004. Apollo Justice: Ace Attorney hit America in 2008, and since then, there have been some additional rereleases and two spin-offs that served as interquels. Now, the time has come for the next Ace Attorney game, or Gyakuten Saiban 5 in Japan.
Famitsu has revealed that Ace Attorney 5 will feature the return of Phoenix Wright as the main character, regaining his lost lawyer status. He is joined by a new female partner dressed in yellow. The first case involves Phoenix defending Shinobu, a girl accused of causing a courtroom explosion, from prosecution courtesy of Winston Payne's younger brother. Some screenshots featuring silhouettes indicate that the gameplay will include some sort of update. "Courtroom minutes" are mentioned, while the evidence screen features emoticons in the corner.
Ace Attorney 5 will also have 3D graphics instead of 2D graphics, which disappoints me a little, since I loved the 2D animations that breathed so much life into the characters. More impressions of the game will surely pop up at this year's TGS, where attendees can try out a 15-minute demo.