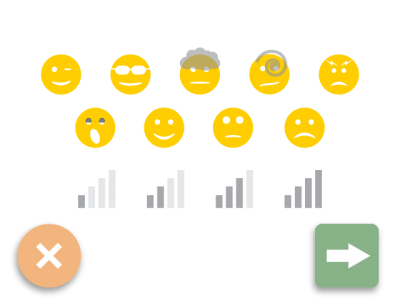 As a videogame input device, Kinect leaves a lot to be desired. Part of that are the concessions made to produce an affordable device, and part of that is conceptual (though that's a discussion for another time). But as a piece of tech to be hacked and used in non-videogame applications? Kinect is pretty awesome! Hell, with some creativity, it can even be used to help those with stroke complications to communicate.
Chad Ruble's mom suffers from aphasia, a condition that affects her ability to remember words and express them, even if she has a grasp on the idea she is thinking of. She has had aphasia since her stroke twelve years ago. In the meantime, social media has grown, but it is difficult for this woman to type email.
Enter the Kinect. Ruble has created an emotion "dashboard" that will allow his mom to generate simple emails to her family and friends. It lets them know how she is feeling and how strongly she is feeling it. Future revisions may have more boards and also include a snapshot from the Kinect's camera. It will be interesting to see what other assistive functions people will craft for the Kinect over time.