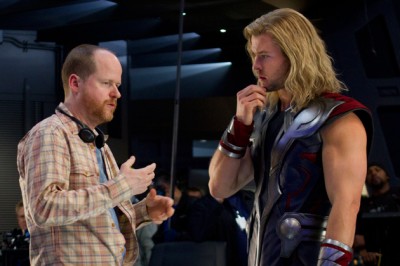 The latest issue of SFX magazine has an interview with Alan Taylor, director of several Game of Thrones episodes as well as Thor: The Dark World. He says that when certain scenes just weren't working in the film, he called in the director of The Avengers, Joss Whedon. Whedon had previously helped fix some of Captain America: The First Avenger, so since he's in charge of The Avengers: Age of Ultron, the next big team-up in the Marvel Cinematic Universe, it makes sense that he'd be the one to turn to.
"We had a major scene that was not working on the page at all in London, and [Whedon] basically got airlifted in, like a SWAT team or something," says Taylor. "He came down, rewrote the scene, and before he got back to his plane I sort of grabbed him and said, 'And this scene and this scene?' And he rewrote two other scenes that I thought had problems. Then finally we let go of him, he took off again, and we shot the scenes."
Taylor was really grateful for the help, and as a fan, I am too. The first Thor movie was just awful, easily the weakest part of Marvel's Phase One. Here's hoping Thor: The Dark World surpasses it — and has much fewer Dutch angles.
Source: Comic Book Movie