Posted by Bob Muir on Oct 30, 2013 in
Videogames
|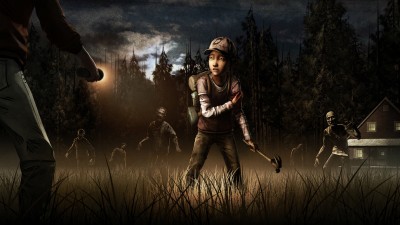 Have you heard of this "walking dead" thing? If you've been living under a rock, The Walking Dead is a critically acclaimed comic series by Robert Kirkman that has been adapted into a very successful TV series on AMC. Last year, Telltale Games released a episodic adventure game called The Walking Dead: Season 1 that went on to win untold Game of the Year awards based on its strong design, writing, storytelling, and characters, despite competing with games with far bigger budgets. If you haven't played it yet (or its short expansion 400 Days), go do that now before even thinking about watching what many fans have been waiting for: the reveal trailer for Season 2.
The Walking Dead: Season 2 is the continuation of the previous series, a new episodic game concerning the continuing adventures of Clementine, the only outstandingly-written child character I've ever come across in a game. From the looks of it, she's on her own for now, but she's sure to meet new characters. Some of your choices made in Season 1 will carry over, especially those from 400 Days, which introduces several new characters and acts as a bridge between the games.
Season 2 is set to start sometime in 2014, releasing on PS3, Xbox 360, PC/Mac (including Steam), and iOS devices. I note that there are no PS4 or Xbox One versions announced, although the game likely wouldn't benefit from the increased horsepower anyway. Plus, half the fun is seeing your earlier choices reflected in later story points, so the save file issues would also be a potential issue.
Source: YouTube