Posted by Bob Muir on Oct 23, 2013 in
Videogames
|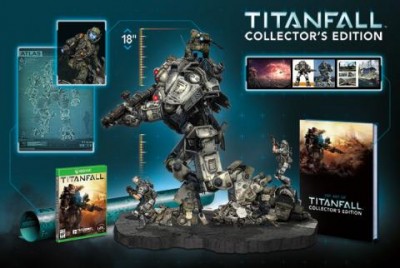 Respawn Entertainment's highly-anticipated next-gen shooter Titanfall has finally been dated. What seemed like a possible launch title for Xbox One slipped back and is now confirmed to be released on March 11, 2014 in North America, with a March 13, 2014 release date in Europe. The game is not only coming out on Xbox One, but also PC and Xbox 360, though I think the 360 version won't be purchased as much. But are you somehow going to have some spare money after the new console launches this fall? Then Respawn is offering you an expensive Titanfall collector's edition.
The centerpiece of this collector's edition, besides the game itself, is an 18″ Atlas Titan statue, with a motorized cockpit and LED lights. There's a full-size art book and an Atlas Titan schematic poster. If you want one of these, preorder now, as Respawn claims that these will be released in "very limited quantities" for all three platforms. Also, be prepared to fork over $250, which is absolutely ridiculous. I've purchased extravagant limited/collector's editions that cost up to $150, but I guess the giant statue with all the bells and whistles jacks up the price.
I won't be playing Titanfall because it is multiplayer-only and I get the most enjoyment out of singleplayer games, but I can't deny that I'll be slightly jealous of anyone who gets this statue.
Source: Titanfall