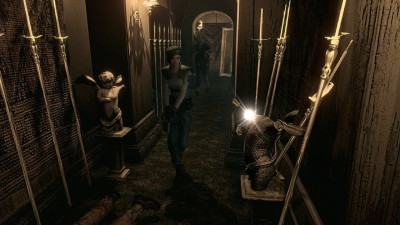 There's really no reason to ever play the original PlayStation version of the first Resident Evil game, since the 2002 GameCube remake completely blew the previous versions out of the water. Next to gorgeous pre-rendered backgrounds, the PS1 version just looks laughable. But there's the rub: it's hard to update the game in high-definition when all your backgrounds were made for 4:3 480i screens. Capcom has announced an HD remake, with better models and upressed backgrounds.

The game has a widescreen option, but since every camera angle is predetermined, this is only accomplished by chopping off the top and bottom of the image; the image will shift as you move higher or lower on the screen to preserve the original data. I'm happy that the best version of Resident Evil is getting a rerelease, but it's hard to expect too much due to the nature of how the original game's graphics were made. If I do pick this up, then I certainly won't be playing it in widescreen.
Resident Evil will be released digitally on PC, PS3, PS4, Xbox 360, and Xbox One in early 2015. It will run in 720p on PS3 and 360, but run in full 1080p on PC, PS4, and Xbox One. Strangely, despite the game originally appearing on GameCube, there is no release planned for Wii U.
Source: YouTube