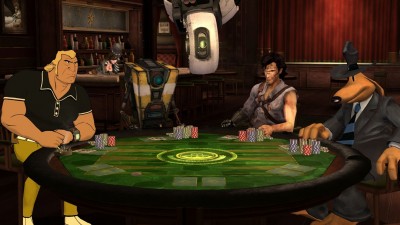 It's fairly hard to sort out the real news from the fake news on April Fool's Day, but here's something from yesterday that we're pretty sure is true, since there were rumors about it prior to April 1. Telltale Games, known for their adventure games and most recently the critically acclaimed game version of The Walking Dead, has announced Poker Night 2. It's a sequel to 2010's Poker Night at the Inventory, which featured Team Fortress 2's Heavy Weapons Guy, Homestar Runner's Strong Bad, Sam & Max's Max, and Penny Arcade's Tycho.
This time around, Telltale has a new cast. We've got Claptrap from Borderlands, The Venture Bros.'s Brock Sampson, Sam from Sam & Max, and yes, Ash Williams from Evil Dead and Army of Darkness. Portal 2's GLaDOS serves as dealer.
It's a great line-up, and I'm really surprised to see Ash in there, but I hope they can get Bruce Campbell to voice the character. It just wouldn't be the same without him.
Poker Night 2 will be released sometime later this month for Steam, Xbox Live Arcade, and PlayStation Network.
Source: YouTube